6 Ways to Add Keywords to the Google My Business Listing
The Google Business Profile is one of the most valuable assets of any local business. Many people think SEO for local businesses is just about using keywords.
However, the places on the Google Business Profile for keywords are limited. In this article, I will explain to you where it can make sense to include keywords in your Google Business Profile.
How should you add keywords to your Google Business Profile?
Keywords play a significant role in SEO. However, you want to use them wisely to avoid customer confusion and keep your online business appearance professional.
Sometimes keywords can help improve rank, but if used incorrectly destroy your conversion rate. The same goes for the Google Business Profile. The places to add keywords to increase rank are limited.
Most places can impact your conversion rate, though. So before you add keywords, be sure to read this guide to fully understand where it makes sense to add them and where you should be more careful.
1. The Google Business Profile Name
The number one place where you want to add keywords to is the Google Business Profile name. The name is a strong ranking factor for ranking on local search and Google Maps.
The more relevant the GBP name, the better your visibility. Just be sure to stick to Google's guidelines as you want to avoid facing a suspension of your profile for stuffing your Google name with irrelevant keywords.
Changing your real business name can even make sense for most businesses as local search is their primary source of income. So why not play by the rules and get the maximum impact simultaneously?
The second place you want to use keywords in is the service section in your Google Business Profile. Keywords in that section can impact not only conversions but also rankings. Google will give you a bunch of suggestions and you can also add your own keywords.
We've tested this with very unusual keywords, and rankings went up for many relevant terms. So be sure to add all relevant service keywords and create small descriptions for each of them. You can use ChatGPT for local SEO tasks like this.
A third place where keywords play a major role is within the GBP category section. Categories are predefined and Google edits its category database on a regular basis.
While you cannot choose your favorite keywords, you can select one main keyword for the primary category and up to 9 secondary keywords for additional categories.
Try to find the best categories as only then you'll be able to compete with your competitors. You can also try a Google Chrome extension called Pleper SEO to identify all categories a business uses on Google.
4. The Google Business Profile Description
The Google Business Profile Description is a great place to add relevant keywords. The description itself doesn't seem to impact rank, but if written correctly, it can contribute to a higher conversion rate on local search and Maps.
Be sure you include all the necessary details about the business in your GBP description. It will help you convert more visitors into paying customers.
5. Website Justifications
You also want to add keywords to your website. The best way to do that is by creating service pages and blog articles about local and industry-related topics.
If Google thinks some of the keywords used on your website are relevant to your Google Business Profile visitors, it might show a local justification on the search results and on Google Maps.
Creating content and including relevant keywords only on our website can directly impact conversions on local search.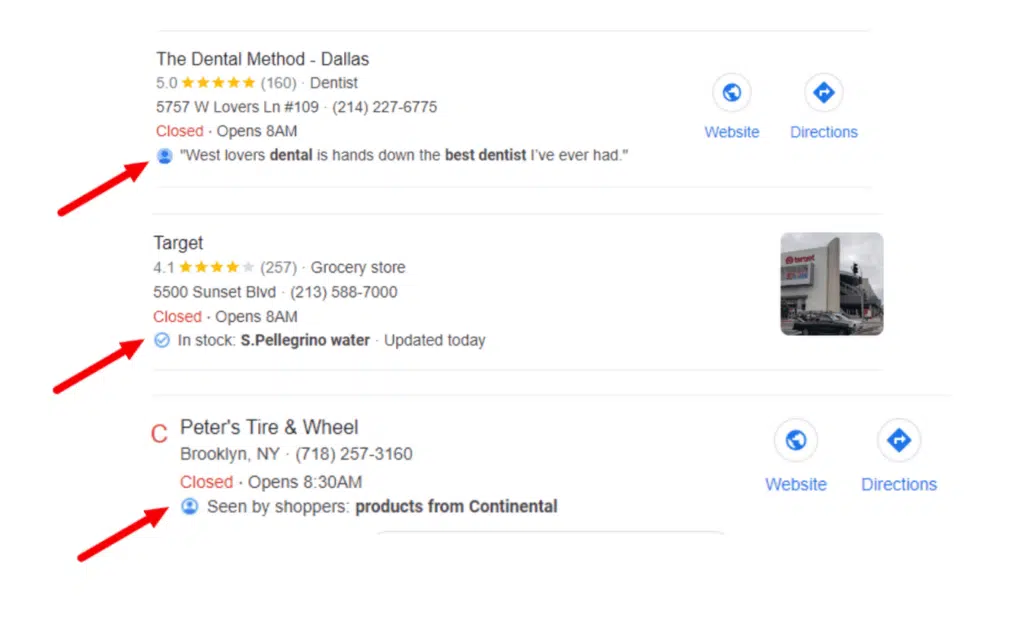 Although you're not really in control of your review content, you can try to encourage customers to leave extensive reviews that eventually include keywords. You might even be able to identify new keywords from those high-quality reviews.
The way customers phrase their problems and experience with you are valuable insights that you should use to your advantage. A great way to get new reviews is to ask the customer in person right after the job is done. With every minute that passes by, your chances of getting a review decrease.
These were the absolute top places where adding keywords makes the most sense. You can also add keywords to Google posts, products, and the Google Business site, but they're certainly not that impactful regarding conversions and rankings.
If you want to learn more about optimizing the Google Business Profile, download my Local SEO Bible for free. It's a guide full of tactics and strategies to rank your local business higher on local search and Maps.