How to get My Google Business Page Back
Many people are wondering why their Google business website can't be found anymore. Usually you would be able to access the site by clicking on the standard website field and it would show an additional option to "manage" the Google Business Site. 
However, users started to report that this option was gone and removed from their profile. See the screenshot below. 
I've found a way to activate the site and get it back to your profile. It's a little technical but I'm going to guide you through the process without the need of a developer.
Access Google Business Page - Step By Step
I'm going to use the Chrome browser on Desktop. If you're using a different browser, please switch to Chrome for this little hack.
Step 1 - Log in to your Google Profile
Go to your Google Business Profile. You can search for "my business" on Google's search or go to google.com/business.
Step 2 - Click on "edit profile"
Click on edit profile so that you see the open pop up window where you can edit your profile information.
Step 3 - Check Frame Source Code
Right click with your mouse and select "view frame source". Don't confuse this with "page source". We precisely want to see the frame source code of this pop up window.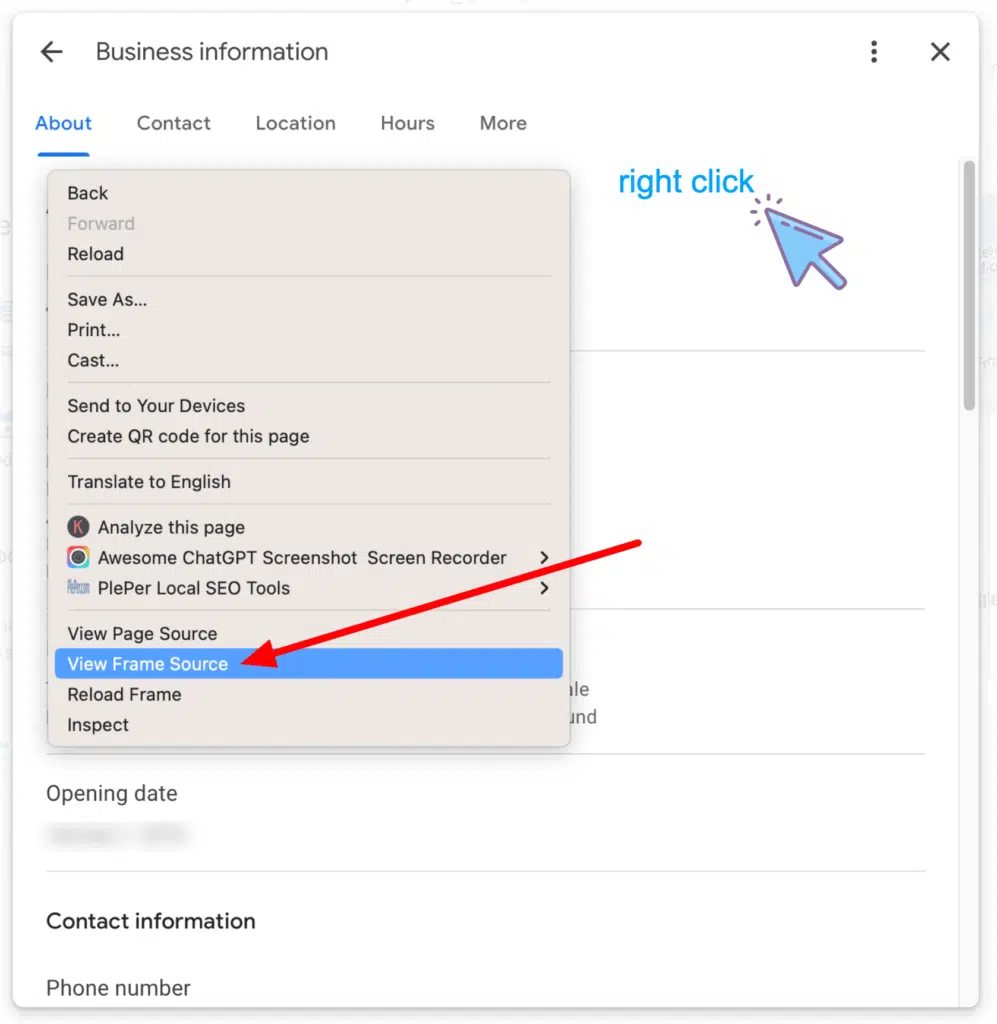 Step 4 - Find your Google Business Site ID
The Google Business Site ID is not visible anywhere else, so you need to find it in the source code of this pop up window. 
In this source code tab, press CTRL+F on a windows PC or command+F on a Mac to open the search bar.

Now type in "data:" (without the "")
Attention: You'll need to search for "data:" including the colon! The search results will be 200+ if you leave out the ":". 
If you're on the correct page, the search bar will show you 8 search results. We're going to need the last one that looks like on the following screenshot:
Now you've found your Google Business Site ID.

Copy the ID and paste it to the following URL:

				
					https://business.google.com/site/l/
[insert_Google_Business_Site_ID]
				
			

				
					https://business.google.com/site/l/09602100182746436583
				
			
Hit enter and marvel at your Google Business Site. The "manage" button that had been removed is back again, too.
It's basically creating the site from scratch. 
This is how you access and create the Google Business page. If you have any questions please leave a comment below.