My #1 Keyword Research Method
This is an incredible method to rank keywords that are trending right now. All you need is an SEMrush account and a list of potential competitors. They are potentially competitors because they don't have to actually compete with you. 
If your business is located in New York, you can also list businesses from Los Angeles. They don't compete with you but they're operating in the same industry.
Find trending keywords with Semrush
This method is really awesome as it tells you exactly what Google wants at this very moment. It simplifies local keyword research for location pages. This approach also allows you to quickly identify local keyword opportunities. The only tool you need is SEMrush: Get a 7 days free trial (affiliate link)
Check it out:
The first step is to open SEMrush (affiliate link) and select organic research on the left sidebar.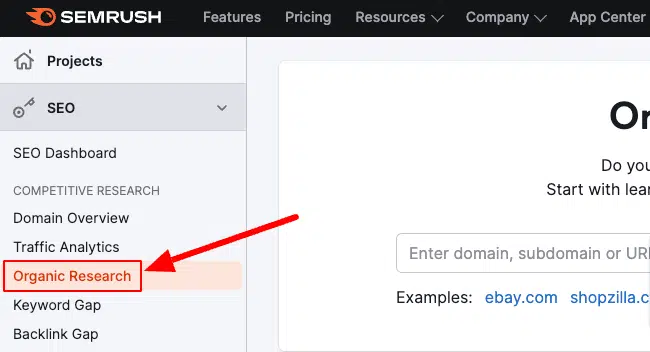 2. Search for competitors
The next step is to search for the competitor you want to learn more about. 
Try to find a big business in your niche. It can be a business that has multiple locations and extensive website resources like a blog or a big FAQ database. But you can also try several smaller competitors to get some data insights. The smaller the company the less your chances to find critical information.
Now you want to choose the filter "Position changes" and select "New". This filter will return all keywords that were found by SEMrushs crawler recently.
It's basically all the new keywords the website started to rank for. This will already give you great insights into what your competitors just started to rank for. For more relevant information, move on to the next point below. 
Another option is by filtering for recently improved keywords. Those are keywords the company already ranked for but has recently improved their rankings for.
Now that you've filtered for new keywords, you can as well filter for new keywords that immediately ranked in the top 3 positions. Those are very likely the low-hanging fruits. Those are the keywords that you won't find much competition for. 
In order to do that, click on "positions" and select either top 3 or #1.
If you don't find any new keywords here, try top 10 or #4-10.
If your search returned lots of keywords and you want to narrow the results down, you can search for a keyword of your choice and it would only return those results that include your specific keyword. 
That can be a specific service or product. If you want to do more location page or service area page keyword research, you can search for "in". That will return many keywords that are related to a specific place like "Starbucks "in" Austin".
The results will show you the current position, the traffic change (mostly from 0 when the rankings are new), the ranking URL, and when the ranking position was updated.
Especially the information about the last update is quite interesting so you can be sure the data is not outdated. Feel free to check out the specific URL and figure out what the competition is doing to rank.

This is an extremely efficient method to find new keyword opportunities for a local business website. 
I suggest you to experiment with different filter variations yourself. You'll be surprised how much more you can learn about the competition and apply all of that to your own website SEO strategy. 
If you liked this post, please leave a comment below and share it with your fiends and colleagues. Thank you!