The Ultimate Local Search Optimization Manual
Local SEO isn't just a tool to get more local customers through organic search. It's the absolute best strategy you can use to grow your local business online & offline.
Read on to learn how to rank your business in the search engine 3-pack through my tried-and-true methods.
Search Engine Optimization (SEO) is a method of enhancing the online content about your business in order to help customers find you. Good SEO will help lead customers to your website, encourage search engines to link to you, and enhance the conversion rate (the number of searchers that become customers) for your business. Local SEO is all about that on a smaller scale. It's about helping you find customers in your city, State, or whatever service area you work in. This is especially helpful for small business owners.
Why is local SEO important?
Local SEO is important because, when it comes to getting local customers, this is the best way to get it done. In fact, 76% of people who search for a local business will visit their location that very same day. How's that for quick results?
The Ultimate Local SEO Guide
The three pillars of local SEO are your Google Business Profile, your website, and your online citations. Once you optimize these using the steps in Parts 1, 2, and 3—stay on top of changing trends with the amazing tools in Parts 4 and 5.
1. Your Google Business Profile
Whenever a person does a Google or Google Maps search for a specific business (aka. Pop's Italian Restaurant") or type of business (aka. "Italian restaurants") near them, they will get local results. The results of these searches are organized by proximity, relevance and popularity.
Relevance is determined by the details that Google finds for your business online. 
Prominence is based on how often people search for your business or visit your website links.
Proximity is based on the distance from the searcher to the business location.
The higher up on the list your business appears, the better its local ranking. You can improve this ranking by optimizing your Google Business Profile for example by adding your social media profiles.
Local Search Ranking Factors
Google uses several different categories of search factors when determining local search ranking. Not all of these factors are transparent in terms of Google's business policies. But we can still determine a pretty extensive list based on in-depth analysis. 
The three main factors in search ranking are relevance (how your business relates to search terms), prominence (how famous your business is in the online & offline world), and proximity (how close you are to the person that is doing the searching).
Other factors include:
Links –

This includes things like inbound anchor texts and linking domain authority/quantity.
On-Page –

Optimization of page-based elements like headlines, URL, body copy, keywords etc).
Citations –

This is based on information compared between your Google profile and other citations sites, such as location data, NAP, and the consistency of that information.
Search Engine Behavior –

This includes things that visitors do, such as their click-through rate, how often they click links (via mobile searches) to call your business, and how long they take to browse your business page. 
Personalization –

This includes other factors about the user such as their search history, location, and the device they are using. 

Reviews – This includes first- and third-party reviews as well as how often and how fast someone leaves a review after service. 
Local Search Conversion Factors
Conversion factors are the elements of your online presence that turn online searchers into new customers. Many of these factors are similar to what search engines use to determine rankings — just interpreted differently. 
Relevance –

Searchers will want to know how your business relates to what they are looking for. Make sure that information is clear.

Proximity –

Customers are more likely to choose a business that is closer to their work, home, or current location. 

NAP –

When your name, address, and phone number are spelled out on your page, this helps confirm that your business is where Google says it is, enhancing legitimacy.

Consistency –

Many searchers will look on multiple sites for information about your business. The more consistent the information they find, the more likely they are to trust that your business is legitimate. 

Reviews – Online reviews are crucial to customer conversion. Both positive reviews and negative reviews make a lasting impression and a potential customer or consumer.
Optimize Your Google Business Profile
Your Google Business profile is a key way to refer people to your business. Millions of local customers daily rely on Google to provide accurate, relevant information about companies. You'll be able to ensure that Google recommends you to the right people by following these guidelines for your Google Business Profile.
Be sure to use your real business name. This is a major ranking factor in Google search results, so try to keep this unique and memorable. You can also add keywords to get more visibility but use them in moderation. Keyword stuffing can lead to getting your profile suspended if you don't follow Google's rules.
If you're looking to target a general service area rather than a specific brick-and-mortar location, leave this space empty. Otherwise, just put in your store location. Make sure you keep this address updated if you move or expand. More consistent information looks better to search engines and will make you more likely to show up on the top three map results (aka. the map-pack).
Be sure to use a real local phone number. You should also set up call tracking. This will help you determine how potential customers found your business so that you can optimize your process even further. CallRail is a good resource for this.
Whether you're just using a basic landing page or a full website, this is an absolute must for good SEO. Social media pages will not have nearly the same effect on your credibility and search engine standing as your own website. Google Analytics implements a UTM (Urchin Tracking Module) to help track how searchers reach your business page. This can help you determine the success of different marketing campaigns.
Be sure that you keep your hours of operation consistent across the entire web and update them as needed. This will enhance your site's credibility and prevent confusion from scaring away customers and search engines.
Use high-quality photos and videos to help improve customer experience on your website and citation pages. Use your own photos whenever possible. Purchased or free stock photos will not have the same effect. 
Google Business profiles now have a feature where you can post updates—things like special events, offers, and new product launches. Using this feature regularly will help show search engines that your business is active.
Your profile will have the option to choose pre-set service keywords or create your own. Use the pre-set keywords whenever possible. They will be most likely to positively impact your search ranking.
If you want to learn more about the optimization process, check out my Google Business Profile checklist. This comprehensive guide includes every step you need to polish up your Google Business profile.
2. Website SEO for Local Businesses
Just like SEO can help you optimize your business directory pages, local SEO can truly maximize your website. It does this through a specific set of ranking signals or factors that search engines use to determine where you'll place on the SERP. 
This can really help your business stand out from other local competitors. Customers are more likely to choose from the top three results on the page (aka. the 3-pack), especially if they're looking for a local business they're hoping to visit right away.
If you're operating from a single location, I recommend just putting together a basic landing page. You can always add more subpages for your services or products later if it's necessary. If you have more than one location, creating a separate landing page for each location is best. 
Keeping these and the following other factors in mind will help you optimize your website for local SEO.
On-Page Factors for Local SEO
Search engines may use web crawlers to help index your web pages for use on search engines, based on common search terms. Things like your page title, URL structure, and meta description all play a part in how your pages appear to the engine. 
Be sure to prioritize important search keywords in these areas. Internal linking, anchor texts, and Hx headings also help single out specific keywords that can help search engines find your site.
Backlinks are links from one website to another. Getting backlinks to your website will help improve your search engine visibility. 
This is especially true if the sites referring to yours end in ".edu" or ".gov"; belong to local businesses; or come from local and global directories.
Pages that are based on location are a great way to expand ranking area—especially in regions where the competition is heavier. 
It's best to have each page target a specific service or product in relation to that area (ex. "Plumbing Service in Jackson, New Jersey")
Researching which local keywords are most relevant to your business can be very helpful for optimizing your website text. You can start typing in terms into places like Google, Yelp, and Bing to see what comes up in the automatic suggestions. 
If you're using Answer the Public, Semrush, and Google Ads can also analyze search results from all around the web to give you a list of relevant keywords.
A citation (aka. business listing) is an online reference to your company on a business directory. This is designed to redirect people to your website and/or prompt them to contact or visit your business. 
Search engines use citations to help determine a business' legitimacy, so you'll want to make sure that you take the time to get this right.
The most important aspect of a good citation is consistency. Any information you provide in your citations should match every other business directory you've chosen. 
This will increase traffic and prominence with search engines and make you seem more reliable in the eyes of the public and the search engines.
Most Popular Business Directories
While there are many business directories out there that can work for you, the best ones have the highest authority. These are the ones that are referenced most often by search engines and used most often by searchers.
Here are the top 5:
Yelp –

This huge directory is broken into multiple categories, allowing users to find businesses based on industry, location, keyword search, and more. 

Apple Business Connect –

Apple's directory is designed to make it easier for customers to find your business using Apple Maps. 

Bing Local Places –

Similar to Google, Bing Local Places makes it easier for the Bing search engine to direct customers to your site. 

Facebook –

Create a business page on Facebook.

Instagram – Another popular site you should list your business on. 
Data aggregators are designed to pull data from everywhere on the net and consolidate it for easy review. Sometimes this means compiling directory pages. Other times, it's about putting together data that companies can use to perform a local search audit.
Similar to Yelp, this site allows users to search for businesses or list their own based on a number of categorical factors. You can list your own business here or claim and manage an existing page created by the site.
This site provides data, technology, marketing tools, and more to help companies analyze customer data. The site is mainly focused on marketers, salespeople, and other professionals.
This local search specialist helps companies analyze their data for errors and inconsistencies that might affect local search—among other services.
Brightlocal offers this ultra-convenient citation auditing tool. This allows you to analyze your citations and ensure they are consistent and correct.
These online tools can really up your game when it comes to local SEO. You can use them to gather, analyze, and optimize data in a fraction of the time.
This simple and efficient software helps you find incomplete, inconsistent, and duplicate listings on Google, Facebook, and other directories. Once the issues are fixed, you can use PlePer to monitor the web for other issues. Plus it enables you to see the full list of GBP categories of every listing, their CID number, and a lot more. 
This site offers great functionality for keyword research and local listing management. Backlink audits and other helpful services make local SEO a breeze.
Brightlocal is your all-in-one secret to success. It's got great local SEO tools, citation creators, and review management tools—plus a local rank checker to keep you on track.
This content optimization tool and AI writer is great for creating outlines, briefings, and other straightforward content to help you do local SEO, faster.
It's a fact that companies that keep on-top of their online reviews bring in more customers. Even by responding to existing reviews, you can increase your credibility with online searchers, boosting your potential client base.
Why Review Management Is Important
Here's the thing. Every time you get a 1-star review, you need around 30 5-star reviews to make up for it. People have a tendency toward negativity bias, which means they tend to remember negative information for longer and take it more seriously. 
This can really affect their decision-making process. By providing justifications through professional review responses and high-quality review management, you can diminish the effect of negative reviews and bring in more positive ones to help cancel them out.
Getting reviews is all about timing. 
Requesting reviews at key points in a customer journey (such as right after they receive their product) will make them more likely to leave a relevant review.
If possible, ask the customer in person to play on the human factor. It can also be helpful to watch out for moments of customer happiness. Even if they aren't ready to leave a review just yet, remembering that moment when they were happy with their service or product will often prompt them to leave a review.
Whatever methods you use to get your reviews, keep on top of them! Getting regular reviews is important, especially to Google. They consider a business less active if it hasn't received a review in a while.
Responding to both positive and negative reviews improves your credibility. Be sure to stay polite and professional and use empathy in every response. If a customer has left a bad review, be sure to indicate a) that you understand why they are upset, b) that you're going to do "X" to rectify the problem, and c) they can do "X" to discuss it further with you.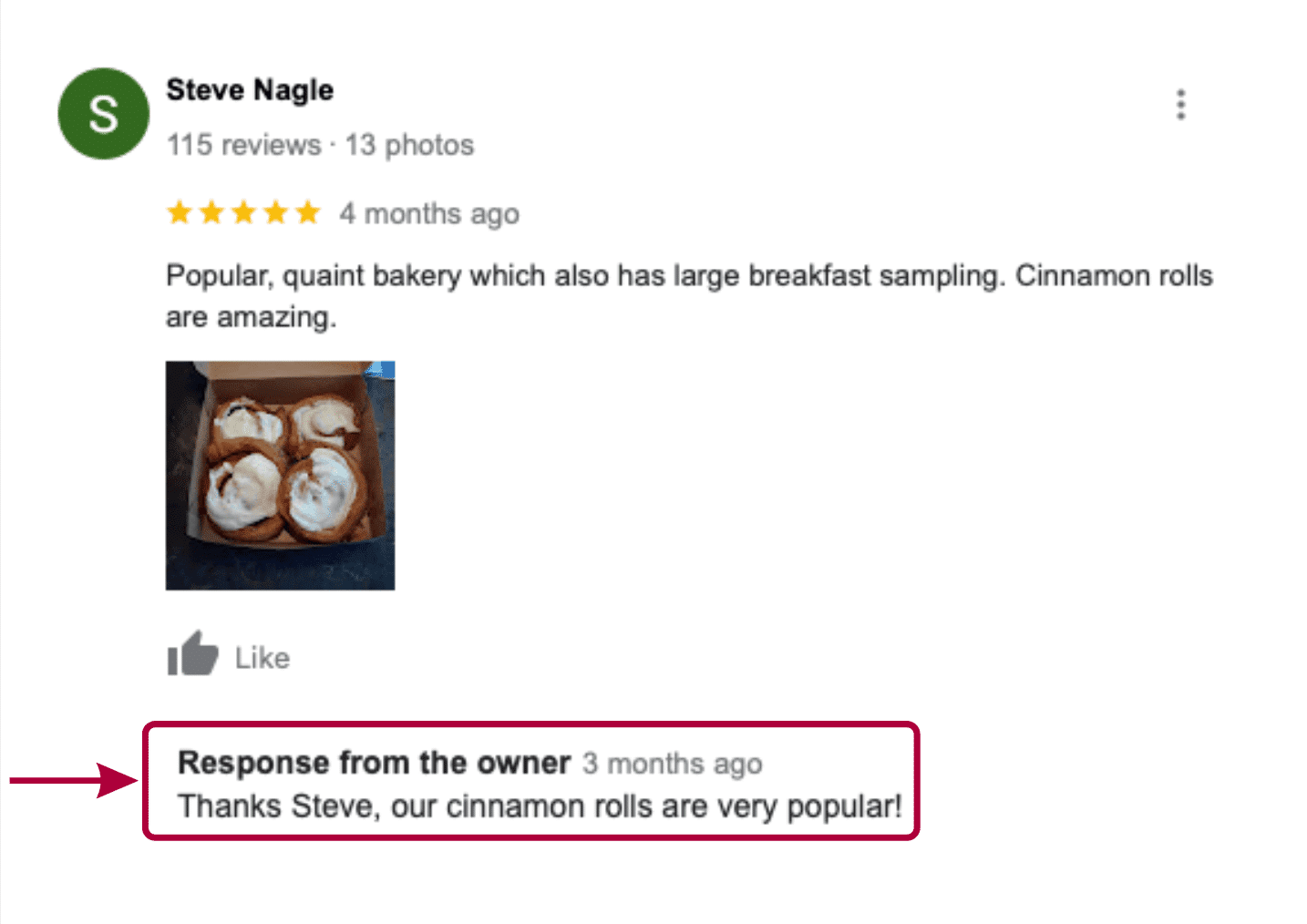 Frequently Asked Questions
What kind of businesses need local SEO?
Businesses need local SEO if they serve local customers. Basically, if a business has a physical location or serves a specific area, it can benefit from local SEO. 46% of all Google searches have local intent. This makes it clear that customers are searching for businesses in their area before they look elsewhere.
How can local SEO help businesses?
Local SEO can help businesses by improving the visibility of their Google Business Profile, business location, and/or website on search engines. SEO can also help businesses improve website traffic, draw in more customers, and help their target audience find their business. Business owners should become familiar with local SEO best practices in order to use them to their best advantage.
How much should I pay local SEO?
How much you pay for local SEO depends on the service provider's experience, the project's scope, and whether you're looking for consistent help. One-time projects for analysis and optimization can usually range between $200 to $5000 in total, depending on these factors. The average price of a one-time local SEO project is around $900. 
How much should I charge for local SEO services?
Freelancers offering local SEO services should charge between $50 to $150 per hour. The specific rate varies depending on the type of services being offered and the experience level of  the freelancer. Agencies and companies often only offer SEO as part of a more expensive service package. If you need further information, please check out our local SEO pricing guide.
Local SEO is an essential tool to growing your business. By optimizing the content in your Google Business Profile, your website, online citations, and review sites you can make it easier for customers to find you. Then, you can manage your reviews and other SEO factors to keep your business in those top results.